Hallucinations, a blog about writing, trains, and Wire to Wire
Viewing Entries From: December 2017
My writing time in 2017 was almost entirely spent on the book I'm trying to finish, a story of kidney theft, Occupy, and a Jimi Hendrix guitar known as the Black Strat. The revisions continue. In my mind, I'm always just a couple months from being done.
But a few sentences of mine did find their way into print this past year—in the form of blurbs for three amazing books that should definitely make your must-read list for 2018.
Parts Per Million
The first is Parts Per Million, a socially conscious, fast-paced debut novel by Julia Stoops, coming in April from Forest Avenue Press. The book was a finalist for the PEN/Bellwether Prize for Socially Engaged Fiction. Robert Newman says "Parts Per Million reads like the bastard offspring of Graham Greene and Naomi Klein." My take:
"Parts Per Million is a cry for justice and a journey through the heart. Julia Stoops brilliantly conjures the social and political unrest of the early 2000s. The war drums, the resistance, the secretive birth of the surveillance state—all lit by deep emotional honesty. Stoops' keen eye sweeps us into the lives of three Portland activists—separate souls shakily united by a cause, a house, and a radiant artist/ex-junkie named Deirdre, who simultaneously illuminates and complicates their struggles. Compelling and deeply compassionate, Parts Per Million takes us to a time and place we thought we could forget, but can't, and shouldn't. Reading it may be the surest way to understand who we were then, and—in the tumult of our times—who we need to be today."
A Thousand Distant Radios
The second is A Thousand Distant Radios, an amazing debut collection of stories by Woody Skinner, already out on Atelier26. Skinner's stories have been called mesmerizing, inventive and emotional, and extravgantly weird by Kevin Wilson, J. Robert Lennon and Kyle Minor respectively. I couldn't agree more. Honestly, your local independent bookstore should have this on the table by the front door, and if they don't, get them to order it. My blurb:
​"Woody Skinner has a heat gun and he will strip the varnish off your soul. You'll laugh while it's happening and when he's done you'll feel more real."
Beautiful Music
The third is Beautiful Music, the story of a young man's transformation through music by Michael Zadoorian. Set in early 1970s Detroit, Beautiful Music is coming in May 2018 from Akashic Books. Order it now, and put it on your list for spring. The Don Was blurb alone should convince you—"Michael Zadoorian has captured an era when Detroit simmered with anger and fear while it simultaneously reverberated with the joyous noise of rock and roll"—but in case you need an extra push, here's my take:
"Like a song you can't stop playing, Beautiful Music casts a spell on your heart. With clarity and tenderness, Zadoorian sweeps us into a life that we recognize as our own. Remember when you were lonely, scared, unsure, and then somehow found your own kind of bravery and actual, genuine joy? Beautiful Music will take you there—and give you the soundtrack to get you through."
All three books are terrific. Check them out – I'm sure you'll love them.
Viewing Entries From: December 2015
Harp, Slater, and Lane live their tangled, messed-up ways in a Michigan town I call Wolverine – actually the combination of two towns I love very much, Frankfort and Elberta. Shown in this beautiful video at 1:19. Watch it full screen. But please don't move there.
"As the land grew closer, pinpoints of light dotted the north arm of the bay. To the south were the faint outlines of Pregnant Point. At the far end of the bay were three giant stumps rising high as the hills—Sunoco Oil tanks, no longer in use. He remembered when they were new. The ship's horn sounded, thunderous in the night. A minute later they passed the lighthouse into the bay, and for a moment the land seemed to be opening her arms."
Viewing Entries From: January 2015
I can't explain the effect Robert Stone had on me, except to say that his writing changed my life. I was 30 when the author Jack Cady told me to read Dog Soldiers. The book turned out to be stronger than the heroin at the center of its plot. The writing enchanted and stunned me. It rearranged my dreams.
If not for Cady's encouragement and Stone's example, I wouldn't have spent 25 years writing Wire to Wire. I certainly wouldn't have spent the past five years on my current novel, which owes a great deal to Dog Soldiers.
I was lucky to have two personal conferences with Stone, one disastrous, one comical. The bad one came on the last day of the Port Angeles Writers Conference. Five minutes into our one-on-one, Tobias Wolf showed up offering Bob a ride to the airport. He looked at me, said, "Keep it up," and left.
We met again four years later at the Squaw Valley conference. The problem this time was that someone had taken our conference room. We decide to sit outside on the patio, but a fierce wind was whipping down the mountain. Stone turned the first page of my manuscript and the wind just ripped it away. I imagine it's still out there somewhere. After about five minutes, we gave up.
I didn't really mind. He had already given me more than I could ask.
In my essay, No Other Way Out for Bloom, I wrote about a passage from Hall of Mirrors that kept me from quitting during the 25 years it took to write Wire to Wire.
[Stone's] character, Rheinhardt, spoke to me from a passage in A Hall of Mirrors. In it, Rheinhardt, an alcoholic, berates himself for the musical talent he has wasted:
"And that part inside you, that beautiful musical part that you are fond of regarding as a series of taut and polished springs is not that at all, but a thick and highly perishable stuff like cream which, when allowed to settle because you have not the energy and manhood to wrangle it, turns into a deadly and poisonous bile of which one rightly and subsequently dies."
The energy and the manhood to wrangle it versus the deadly and poisonous bile: The stakes were pretty damn clear. Over and over I returned to that passage. On the days and nights when I hated my manuscript and hated my inability to finish, those words kept me going. I couldn't quit. I didn't want to be Rheinhardt.
At Politics and Prose in December 2013, Stone said, "What I try to keep writing about is hope, in the face of the persistent failure of hope."
In a recent interview with Tin House, Stone said he wouldn't quit writing until he died.
___________________
Viewing Entries From: November 2014
I've been using a random number generator lately to help me edit my manuscript. I started by printing the whole thing out and putting it in one of those cheap, plastic comb binders. It's 353 pages, but I don't want to mess with the first thirty right now. So, when I'm editing, I go to Random.org and set the parameters at 30 and 353. It generates a number, and I go to that page and make any changes on the hard copy. Then I get another number and go to that page, working my way randomly through the manuscript.
There are 50 pages left now, so frequently the number takes me to a page I've already done—in which case I just find the closest unedited page.
Why am I doing this? Mainly because I find it much less painful this way. I kind of dread going through the manuscript sequentially, but I don't mind reading individual pages. This way keeps me from getting bogged down in bad spots, and I'm not tempted to change the story. It helps me look at sentences with a much more specifc attention. Oddly, the random sample helps me stay alert to tone and consistency. Finally, it adds an element of playfulness that I think is really helpful. It reminds me that while I want to be productive, I also want to have fun.
So, back to work. The number I just got is 59.
------------------------
>
I've got your number right here. New video by Miley Cyrus.
Posted in Writing
Viewing Entries From: April 2014
For the past 16 years, my other site – Segerfile.com – has covered the music of Bob Seger. That site is built entirely with the long-defunct Claris Home Page software, which runs only on the PowerPC platform. To update the site, I've kept an old black Powerbook on the shelf for years. Yesterday, the black laptop refused to boot up. Maybe that's not a tragedy
–
I post almost all Seger news on FB these days anyway. But tradition calls for an annual April Fool's Day post on the Segerfile. So, until I can get the black laptop running again, I'm posting the annual spoof here. Enjoy.
These Artists Thought They Were Simply Playing A Tribute to Bob Seger.
What Happened Next Will Change the Way You Think About Neutrinos Forever.
Oh wait. You're already here. Hmmm. Would you mind going away and coming back a few times??? I need to get my page views up or corporate says they're giving my job to an unpaid intern from South by Southwest.
Speaking of which (SEGUE! Ba-da-boom! Can interns do that? They can??? Crap.), this year's SXSW was more frenzied than ever. In addition to attracting a huge cohort of women in skinny jeans and cowboy boots (approx. 97,000), it also featured a record number of Shriners in medical boots (approximately one. But still a new record.)
The presence of a Shriner in a boot cast drove SXSW to a fever pitch,
according to this hastily written photo caption.
The festival was also notable for the number of "tributes" to other artists – longish events where lesser bands played lesser versions of songs that influenced other songs that influenced songs you actually like.
The Lou Reed tribute was a case in point. It began Friday evening in the packed Paramount theatre and is scheduled to conclude by Memorial Day or when Wayne Kramer takes the stage, whichever comes first. So far, the tribute has featured an unforgettable half hour of music and 340 set changes.
A tribute to Jimi Hendrix was also held, timed to coincide with the unveiling of the new Jimi Hendrix postage stamp.
The tribute began with an amazing and seemingly impromptu set of opening remarks by a baldish administrator from the United States Postal Service. Performing solo, and dressed in stunning Casual Friday attire in honor of Jimi, the administrator wowed the multitudes with his virtuoso introduction, moving from rhetorical to declamatory techniques and back again. Holding his notes behind his back, he spoke fluently about commemorative stamps of all types, incorporating passages of epideictic and didactic hortatory, dive-bombing into a mixture of Pig Latin and jargon, before ending with dissuasive and beatbox elements tracing back to Aristotle and Run DMC.
"It was a total mind-blower," the guy next to me did not say. "At first we thought, what is this? As it went on, we realized history was being made. Bland introductions will never be same again. I thought there were three guys delivering prepared remarks simultaneously, but it was just this one dude."
Letters using the new Hendrix stamp will be delivered by dragonfly and will take "about a half a day," to get where they're going, the administrator claimed. At which point he set his speech on fire.
After the giant Jimi banner collapsed, a number of musicians who should never be allowed to listen to Hendrix songs, let alone play them, took the stage to demonstrate through contrast why Jimi was the best. The crowd, dazed by a Level Four Contact High, murmured approvingly while dreaming of snack food.
The Postal Service honored the most innovative guitar player ever with a "stamp" for an outdated communication tool called a "letter." What happened next will blow your mind!!
But of course, it was the Seger Tribute that was most anticipated. A full half of all festival attendees staying in Room 330 of the Radisson Hotel said it was the best SXSW tribute they had ever briefly imagined while waiting on line at Amy's Ice Creams.
Like ancient Gaul, the Seger tribute was divided in three parts. "The Raw Years," "The Radio Years," and "The Kid Rock Years."
The original plans called for the post office to unveil a stamp honoring Seger, just as they did for Jimi. However, plans broke down when a) Punch sent the artwork back to be redone for the 15th time, b) Bob said the adhesive on the back of the stamp needed a little more acacia gum and a slightly higher grade of polyvinyl alcohol before it could be released, and c) focus group testing revealed customers believed that using a Bob Seger postage stamp would mean their letters would be delivered in about a year, or the year after, or three or four more years, or possibly much later, if at all, depending on when the postal muse struck.
So the show went on without an official stamp. But what a show it was.
Could this irrelevant picture of Ultraman lead to exciting news about Seger's new CD? You'll never know unless you click!
For The Raw Years, a reanimated James Brown belted out "Gets Ya Pumping" and "Lucifer." To the delight of several, a reanimated Otis Redding jumped onstage and joined Brown for a duet of "Red Eye to Memphis." True Seger aficionados experienced an unforgettable rush of fanboy superiority, while 99.3% of the crowd turned to each other and asked, "What the hell are they playing?" Emergency responders did a terrific job of handling the epidemic of shrugs that followed.
The Radio Years segment did not go as well, unfortunately. First up was "Against the Wind" by a reanimated version of The Eagles. The actual Eagles wanted to perform, rumor had it, but promoters, attuned to the average festival-goer's limited attention span and need for maximum stimulation, preferred the livelier, reanimated version of the band.
The next performer, Suzanne Vega, delivered the most heartfelt tribute of the night. "This is dedicated to the man who set the standard for everyone who followed. A man who spoke for all of us, a genuine troubadour for humankind, he always lived his ideals – from his days as a young communist, to his support of peace and freedom everywhere. There will never be another like him, and I miss him terribly."
The crowd, slightly confused, was nevertheless moved – until she launched into a medley of "Where Have All the Flowers Gone" and "The Lion Sleeps Tonight." Seger fans, enraged that their hero had been confused with a banjo-playing folk singer for the one-zillionth time, stormed the stage, intent on tearing Ms. Vega from limb to limb.
Seger. Not Seger.
So it was perhaps provident that Ted Nugent chose that particular moment to wander up to the mic toting a .223-caliber Bushmaster XM15-E2S rifle with a 30-round magazine, which he proceeded to empty into the air, quieting the crowd. "Where's Rand Paul? he asked. "It this the CPAC convention?"
Realizing he was in Austin, he began to unwind a long rant about "subhuman liberal varmints addicted to cellphonesboozeandbirthcontrol." Seger security man John Rapp reacted quickly, firing a tranquilizer dart into the right butt cheek of the Motor City Madman Who Doesn't Actually Represent the Motor City in Any Conceivable Way, thus allowing the show to continue.
After a long set change, a new band, The Fauntleroys, took the stage and attempted their version of "Turn the Page." After 17 false starts, the band left.
Could this be the entrance to the famous Segerfile vault
where unreleased tracks are kept???
Then came the night's dramatic finale, featuring a five-story Silver Bullet that rose from the stage. Posed provocatively atop the bullet was SXSW's biggest celebrity, Lady Gaga, who belted out an autotuned, hip-hop version of "Old Time Rock 'n' Roll," modifying the lyrics slightly to remove any reference to "old," "time" or "rock 'n roll."
Unexpectedly, as she began bootie shaking through her final number – "Twerking on My Night Moves" – Ms. Gaga lost her footing on a bit of synthetic vomit from her previous show. Slipping off the bullet, she went into a five-story swan dive to the stage below.
What happened next was a textbook example of professionalism in action. Immediately, Ms. Gaga's expert team of highly trained sycophants swung into action, producing their cellphones, tweeting and posting on Instagram. For the next fifteen seconds, #GagaCanFly and #AboutToGoSplat? were trending worldwide on Twitter, which Ms. Gaga's social media director later heralded as "an unsurpassed triumph."
At first, a collective cry of relief issued from the crowd, as it appeared Ms. Gaga's fall had been broken by a six-foot pile of Doritos. Roadies who rushed to the salty pile of processed, nutritionless treats were the first to discover the staggering truth.
In fact, the singer's fall had not been broken by the crispy snacks, as originally hoped. Rather, Lady Gaga herself had broken into a pile of Doritos. Representatives of PepsiCo, attempting heroic measures, quickly scooped the chips into a dozen extra-large garbage bags. "We'll reassemble her!" their leader shouted. "To the factory!"
The evening thus seemed headed for a happy ending. Unfortunately, the PepsiCo team chose to take a shortcut through the Hendrix tribute. When they emerged on the other side, only three of the 12 garbage bags remained.
"I didn't really think I'd like Lady Gaga," one hardcore Hendrix fan said. "But she was delicious."
Later in the night came the sad report that PepsiCo would be unable to rebuild the pop diva. "We ask only for your support, and God's," a spokesmodel mourned. "With the chips we've got left, we can only make Miley Cyrus."
Contacted in his home outside Detroit, Seger commented only briefly on the event. "A tribute for me south by southwest of here? You mean Lincoln Park? Imagine."
Posted in Music
Viewing Entries From: March 2014
Thinking about the Amtrak Writer's Residency has reminded me of train trips and railroad stations in my past. Some of which I've never written about.
The country's oldest continually operated train station is in my hometown—Jackson, Michigan. When I was going to college, my girlfriend and I often travelled by train, and train stations were sometimes places of sad parting.
After one trip, my girlfriend took a spare seat marker tag—a little stub the conductor puts by your seat to indicate where you're going—and wrote a note on it, so I'd remember her when we were apart. After the word Destination, she wrote:
Where our hearts and souls are one."
That was 1979. We moved in together later that year, got married after that. The Amtrak stub says "Keep In Sight," and I do. Her note is always on my shelf, where I can see it when I write. Our hearts and souls are still together, and always will be. I can hear her in the next room as I type this.
__________
One thing that struck me is that I've written a lot about trains, but very little about stations. I was thinking about that last week, when I met my wife at King Street Station in Seattle during the week of AWP, the national writer's conference. The station looks great now, after a $50 million-dollar renovation. Harriet and I lived in Seattle ten years before moving to Portland, and there were a lot of partings and reunions in that station.
Union Station in Portland is also something to be proud of. Last year on Train Day, we saw the White Bird dance company perform Le (Petite) Grand Continental with a hundred or more dancers.
It's also where I chose to pass out free books on World Book Night. I went up to people in the station and offered them a copy of Alexis Smith's great book, Glaciers—because what better place to read than on a train. Even the Amtrak ticket clerks took copies, and I ran out right away.
Outside Union Station. You can see the last copy of Glaciers in the bag.
__________
The residency application also made me re-read the first story I ever published, a short piece that won a Seattle Arts Commission grant. It's called "It Was A New Time," and it was the basis for what became Wire to Wire.
It's not available in print anymore, but here's how it starts.
It was a new time and we rode slam hard, rode it on flatcars and hoppers and bulkhead flats, in empty woodchip cars, gons, auto ramps, and piggies all over the west, the prairies and dirty western towns of district nine—Kalama, Lillooet, Sutter's Portage, dozens of towns seen from the frame of a boxcar and eyes numb past blinking. Towns of dust, where dirty kids threw rocks at the train—in laziness, not maliciously—and empty towns on the straight flat where the last lit beer sign burned 30 miles into the night. We rode quartermile track, Coe and I, seamlessly rolled rail laid eight to a measure. Every seven seconds on alternate sides of the car, we hit the end of one of those quartermile sections of rail, hit a beautiful ringing rimshot of metal and speed over cement-tied Great Slave track. But time was a fitful helmsman that summer and had not always run so new.
Those beautiful ringing rimshots that train wheels make on the track—I hope to hear them again soon.
__________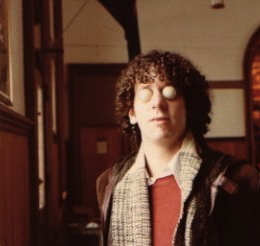 The Jackson, Michigan Amtrak station in 2011, and me inside the station in the 1970s. With ping pong balls over my eyes. Because the "Relaxation Expert" where I worked said that was a good way to relieve stress. It wasn't—but it was good for a laugh.
__________
Love and trains, the two great themes. "When the train left the station, it left two lights on behind..."
Posted in Trains
Viewing Entries From: December 2013
Sometimes, you read one sentence of something, and you're hooked. That happened to me years ago in a Seattle bookstore. I picked a book up off the table and read the first line:
"All nights should be so dark, all winters so warm, all headlights so dazzling."
That was all I needed to know. The line has such immense authority. The rhythm is simple and powerful, and signals that you are in the hands of an author who knows how to craft a beautiful sentence. And it perfectly sets up the next paragraphs, in which those headlights shine on dead bodies. That too signals something—that matters of life and death are at stake here.
I bought the book on the strength of that first line, which is the opening sentence of Gorky Park by Martin Cruz Smith. A thousand times while I was writing Wire to Wire, I read and reread that sentence to myself. 'Try to get something just half as good as this,' I would tell myself. As openings go, that line set the bar for me, and still does.
Earlier tonight, I met Martin Cruz Smith at Powell's in Portland. His new book is called Tatiana. The character of Tatiana was inspired by the journalist and human rights activist Anna Politkovskay, who was murdered—assassinated—on Vladimir Putin's birthday in 2006. My son, Zane, has been in Ukraine and Russia for a semester abroad, and because of his interest in Russia and journalism, I knew he'd be fascinated by this story, as am I.
During the Q&A, I asked Smith what first inspired him to create a Russian detective, particularly since Gorky Park was written at a time when it must have been extremely difficult to research political and police matters in the Soviet Union.
Smith said he had gone to Moscow to write a story about an American detective who was teaching the Russians how to investigate a murder, but realized that he was trivializing what could be a great story. The detective, he decided, had to be Russian. That, of course, changed everything.
Although Smith spent very little time in Moscow, he interviewed many Russian emigres and eventually gave his publisher 200 pages. His editor read it and told Smith, "you aren't good enough to write this book."
And yet, the publisher wouldn't give up the rights. So Smith simply didn't deliver any more pages.
The standoff continued for seven years until the editor left. "And by then, I was a much better writer." So, in an odd sort of way, the delay was useful, and he is somewhat grateful to the editor, Smith said.
Maybe because of my own slow journey, I loved that story.
When I talked with Smith briefly after his reading, I told him how much Gorky Park meant to me and I had him sign a copy of it along with a copy of his new book. On a cold night in Portland, Smith was charming and warm. I'm looking forward to reading Tatiana.
________________
All nights should be this dark: Amy Cook, "Airplane Driver."
Viewing Entries From: September 2013
At the Hendrix museum in Seattle, you can see Jimi's famous white Stratocaster, the guitar he played at Woodstock. It's in a temperature and humidity controlled case, having been purchased for the Experience Music Project by Microsoft co-founder Paul Allen for an undisclosed amount. Around $2 million, the Internet rumors say.
How much Hendrix valued the guitar is another matter. It was clearly important to him—but it's also true that Jimi lived in the moment, and his guitars came and went. According to drummer Mitch Mitchell, Hendrix rather casually gave him the White Strat after what would turn out to be his last live performance at the Isle of Fehmarn in September 1970.
Years later, when Mitchell auctioned the guitar at Sotheby's he offered this description:
"Jimi Hendrix was always breaking his guitars and getting new ones but this particular white Fender Stratocaster serial number 240981 was a particular favourite of his. He used it at the Woodstock Festival in August 1969 playing the now famous "Star Spangled Banner" on this guitar. I had given him a drum kit as a present some time before and I said to him 'I'll have that guitar before you break it up' (I do not think that he would in fact have broken this particular guitar). He said, as was his way 'You got it' and he then gave me the guitar. In retrospect I think it was by way of a gift as my daughter had just been born a few days previously. I think this was one of the last gigs ever played by us."
The White Strat at EMP. Photo by Krishna Sadasivam
http://www.uncubedthecomic.com/blog/day-1-seattle-the-experience-music-project/
There was also a black Stratocaster, whereabouts currently unknown, or at least unproven. If the White Strat is one of the most expensive collectable guitars in the world, the Black Strat (called the Black Beauty by most Hendrix gearheads) is one of the most mythologized.
We have the word of Monika Dannemann—who was or wasn't with Jimi when he died and who was or wasn't Jimi's girlfriend, depending on which books you read and whom you believe—that the Black Strat was even more precious to Jimi than the White Strat. We also have Charles Cross' exhaustively researched Hendrix biography, Room Full of Mirrors, in which Monika does not seem to be truthful about even the most basic facts of Jimi's death and their relationship. That fact that she ended up with the guitar, at least for a while, might conceivably have played a role in what she said about it, and what she said Jimi said.
Still, one thing about Monika is certain: she took the last photos of Jimi, sitting in a London garden the day before he died. In most of the shots, he's holding the Black Strat. Proving not very much, but starting the legend. WIthout a doubt, it's the rarest of rare guitars, a gearhead's Holy Grail, and that makes it practically priceless. And yet, if Jimi's looking down at us, I have to wonder if he might be laughing and telling us it's just a guitar.
We can't ask Jimi, of course, and I don't know how to ask the axis. So we turn to the Internet instead, which provides enough Hendrix/Strat rabbit holes to keep entire data centers buzzing until a golden wing ship passes our way and just keeps on going. It was his favorite guitar, it was just one of many, Scorpion's guitarist Uli Jon Roth has it, Janie Hendrix has it, Jimi died because of the guitar, his manager murdered him, the cursed guitar led to Monika's suicide, Monika was murdered…stock up on supplies, head to your wi-fi enabled bomb shelter and spend a couple of years tracking down the threads. You'll have fun.
Jimi with the Black Strat. Image via Metro Amp message board: http://forum.metroamp.com/viewtopic.php?f=33&t=33486
If you do, you'll see my footprints on a lot of those trails, because the black Fender Stratocaster serial number 222625 fascinates me. In the book I'm currently working on, Dogs Run Free, a guitar player I call Ray Raims is searching for the Strat. His brother gets his hands on it—but then the brother and guitar disappear.
It's a decent plot device—I hope—but the guitar is also a marker for the questions of value and worth that are behind so many issues that mess with us today. The monetization of everything. The elevation of celebrity over talent. Wall Street greed. Occupy. Take, for instance, those highly valued credit default swaps that turned toxic and wrecked our economy—were the bankers who sold them any more honest about their true value than Monika Dannemann?
The Hendrix guitar isn't the main story in Dogs Run Free, but I keep coming back to it partly because it's out there somewhere, in some pawnshop maybe, or more likely some vault, along with all these questions about money and the way we live.
As Dylan wrote and Jimi sang, sort of, none of us along the line seem to know what any of it is worth.
________________________
I'll be reading a little of Dogs Run Free at LitHop on October 2. If you're in Portland, stop in at Bar of the Gods on SE Hawthorne. I'd like to see you. LitHop PDX starts at 7:00 and the lineup of readers is amazing.
Viewing Entries From: July 2013
You've been to the beach. You put a Petoskey Stone in your mouth to see if what they say is true. You got the rental car stuck in the sand. Now you need something to read. Everybody's got recommendations and there's a lot of good stuff to choose from. Here are four more to put on your list.
The Listeners by Leni Zumas
You say you love language? You get high on writers who are word-drunk? If you haven't read The Listeners I'm not sure I believe you. The language is stunning, as are the characters Zumas creates. The fractured way she assembles the story is amazing. Should have been a huge best seller, could still be. Go buy it.
She Drove Without Stopping by Jaimy Gordon
Lord of Misrule won the National Book Award for fiction in 2010. She Drove Without Stopping came earlier, with the same intense power of perception and absolutely gorgeous language, focused on a young woman and her escape from a torturous home life and practically everything else. There's a wounded-strong adventuress without limits, a despicable father, a passive mother...the ride goes from Maryland to a hippie college in Ohio to LA and every page has something to stun you. Must read.
You Only Get Letters From Jail by Jodi Angel
Teenagers on the edge of society. Nothing working like it should. No story going where you think it's going to go, until it gets there and feels like it was inevitable all along. The boy/man with the kitchen knife trying to rob the woman at the ATM, who turns out to be someone he dated, who turns out to be…ah, you just have to read these. Bleak, strong, desperate worlds, and so true to life I'm afraid to wonder how she knows all this stuff.
A Simplified Map of the Real World by Stevan Allred
Okay, you can't read this yet, since it's not published, but you should start counting the days until September 12 or so. Allred understands story and people and family and music and many other things at a level that sometimes makes me feel like a newborn, in a very good way. I wrote a piercing, erudite blurb for this book, and when I was done I said screw it and wrote this instead:
"These are some of the best stories by anyone, anywhere, bar none. If they're not, you can hit me in the face."
I feel sure I'm missing some great books here, and there's a bunch on my summertime TBR list that I think I'm gonna love. Once I get the car out of the sand, I may add some more.
Go ask your dad for the keys to the Honda Can your sister come along, how could she not wanna
"It's A Summertime Thing" by Chuck Prophet
Viewing Entries From: March 2013
It's turning into Seger week in Portland. A writer from Esquire called, wanting some quotes about "Night Moves." My essay on Seger as a lyricist is running in the Portland Mercury. And Seger plays the Rose Garden here Saturday night.
So, to get in the spirit, I'm adding a post a day about Seger on Facebook. Here they are so far, collected.
SATURDAY
My own personal Seger week is starting now, with a song I first heard as a teenager. I still sing the last line to myself whenever the world tries to make me into someone I'm not. Which is to say, all the time.
SUNDAY
J.J. Cale. Rodney Crowell. Otis Clay. Albert King. Peter Green. I learned about all these artists from songs Bob Seger covered. He even named an album after a Leonard Cohen book, way before Cohen's current popularity. And of course, Tom Waits. No one has covered Waits more often than Seger. Claim differently and he'll whittle you into kindling.
MONDAY
For Seger Week Part 3, not just a cover, but a complete reinvention of Midnight Rider. With the Muscle Shoals Rhythm Section and the most perfectly minimalist guitar solo you'll ever hear, from J.J. Cale. Unfortunately, Joe Cocker's cover of Midnight Rider was released just before Seger's, and that was that.
TUESDAY
Okay, so Seger was rockin' it in the early days. What about something from this century? It can't all be cornfields and the backseat of a '60 Chevy, right? Fair enough. You want up-to-date? Try this song about what to do before the sun burns us all up.
Subscribe to the RSS feed
Recent Posts
Archives
Categories
Links